Overview
Bottom Glass Type
Perfusion Open Type
Perfusion Close Type
Related Products
Resources
Chamlide Series
Chamlide is a combined word for "chamber" and "slide", LCI's trademark for imaging chambers developed by patent technology.
Chamlide chamber is designed to meet various of imaging experiments
Observe high resolution image from bottom coverslip of the chamber
Meet various design of chambers that is also available using with commercial coverslip
Various design of chambers
Available with commercial coverslip
Bottom coverslip for high-resolution imaging
Customized design is available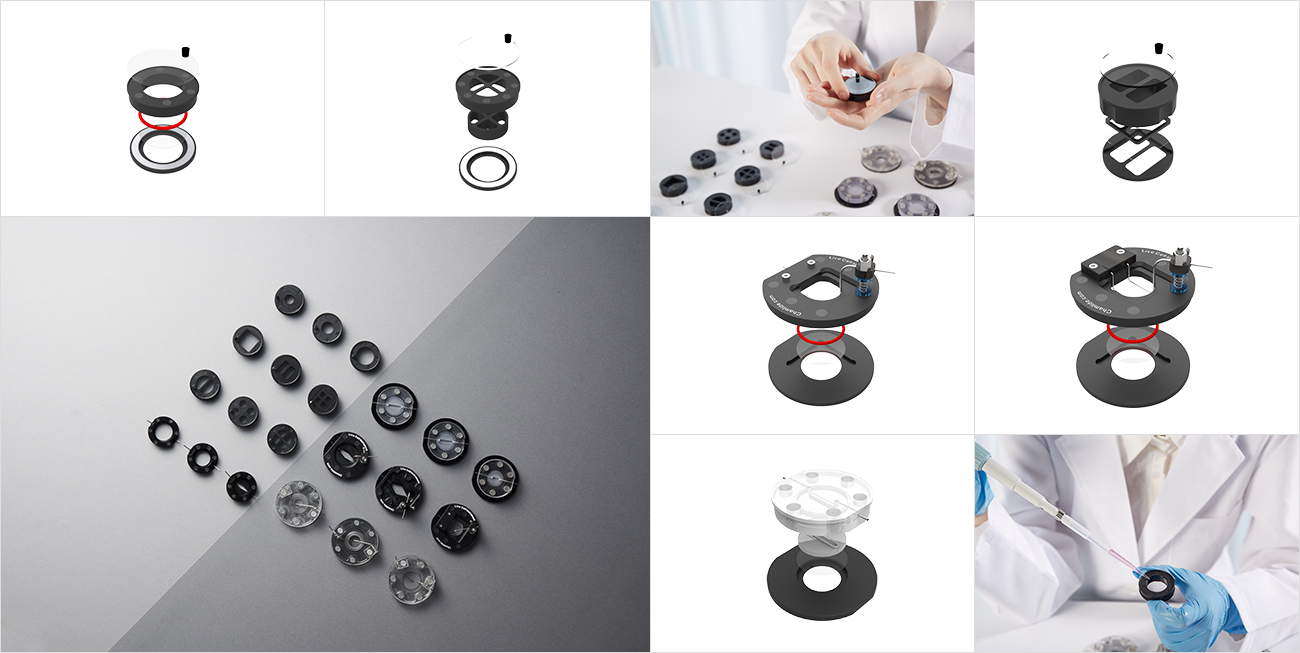 ECONOMICSemi-permanent chamber with replaceable cover slip. Cover, main body, silicon gasket are reusable

HIGH RESOLUTION IMAGEBottom cover slip of chamber is compatible with the microscope ideal use of high-resolution image.

NON-TOXICITYNon-toxic and non-reactive polycarbonate material & metal bottom

EASY ASSEMBLYAssemble easily using magnetic attachment system. Free from troubles occur from using screw- type chambers
(leak of medium or break of glasses)

PENDING PATENTGlass-bottom Magnetic Chamber

CUSTOMIZATIONCustom size and shape are available
CHAMLIDE BOTTOM-GLASS CHAMBERS
Required to control the temperature, CO2 concentration and humidity in the chamber
CMB

35mm Dish Type 1-Well Magnetic Chambers for Round Coverslipers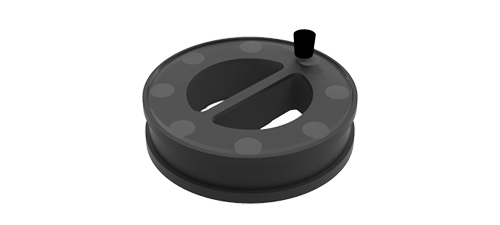 CMM

35mm Dish Type Multi-Well Magnetic Chambers for Round Coverslip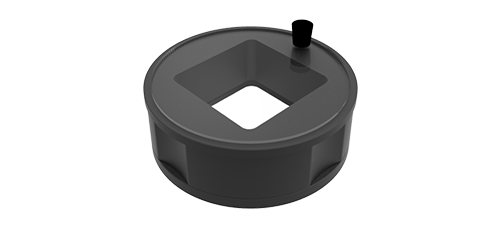 CMS

35mm Dish Type Magnetic Chambers for Square Coverslip
CHAMLIDE Perfusion opened type
For small volume-perfusion or rapid perfusion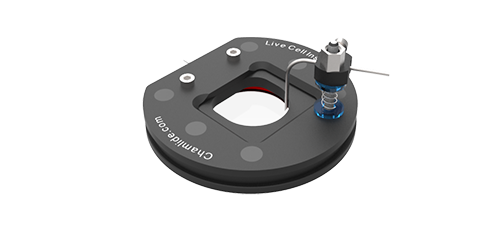 AC

Perfusion type water volume adjustable magnetic chamber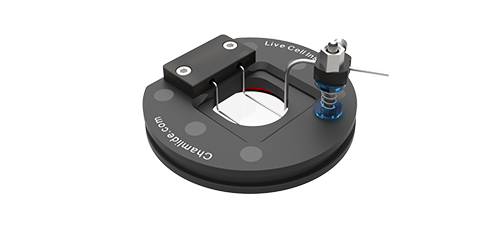 EC

Perfusion type electric stimulation magnetic chamber
CHAMLIDE Perfusion close type
– Usable with the exterior manipulator or able to inject some solutions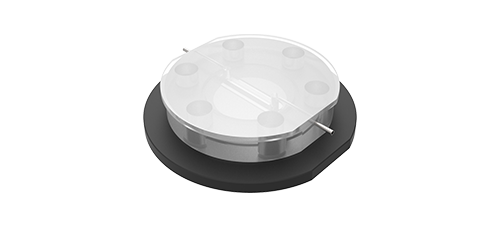 CF

Perfusion type closed magnetic chamber, shear stress chamber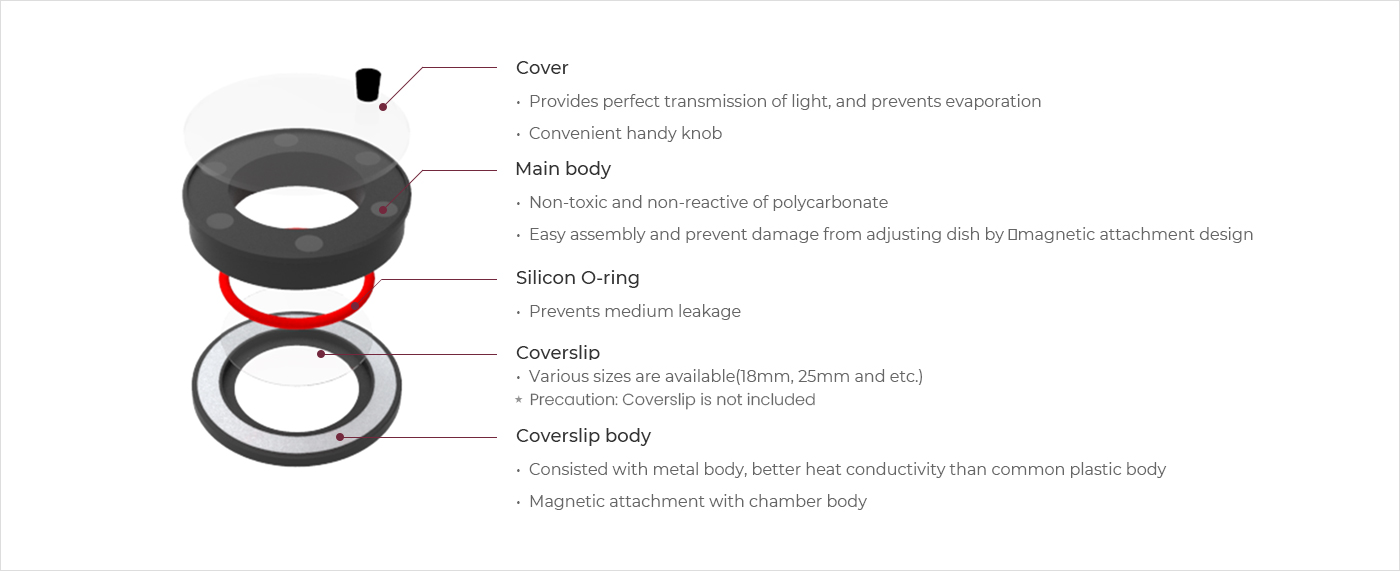 Non-Perfusion
Semi-closed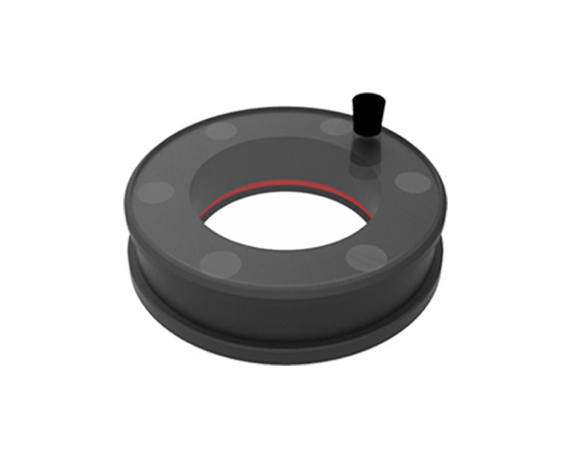 Use 35mm dish & round coverslip
Able to inject culture medium or drug
1 well CMB with standard, straight
Straight/ L-shape tubing type: injection
L-shape tubing type: injection, removable with suction
Available with all types of cover slip size
Chamber Material
Chamber Body
Black polycarbobonate
Coverslip Body
Aluminum alloy
Cover
Glass
Gasket
Silicone
Volume
18mm coverslip : Max.1.2ml25mm coverslip : Max.2.7ml
Non-Perfusion
Semi-closed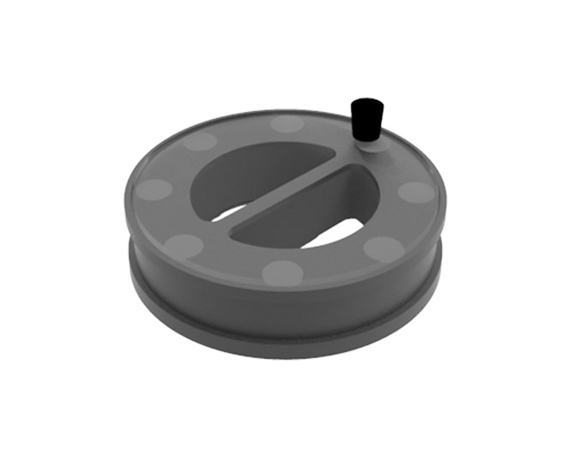 Use 35mm dish & round coverslip
2/4 Multi-well type
Cover slip types : Sector & round shapes are available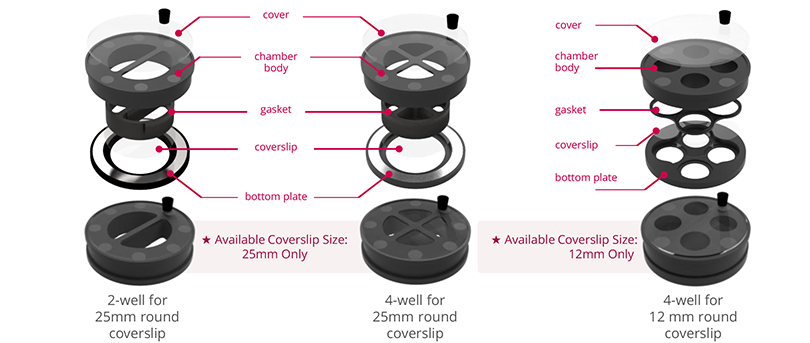 Chamber Material
Chamber Body
Black polycarbonate
Coverslip Body
Aluminum alloy
Cover
Glass
Gasket
Silicone
Volume
CM-M25-2 : Max.1.0ml/wellCM-M25-4 : Max.450㎕/wellCM-M12-4 : Max.400㎕/well
Non-Perfusion
Semi-closed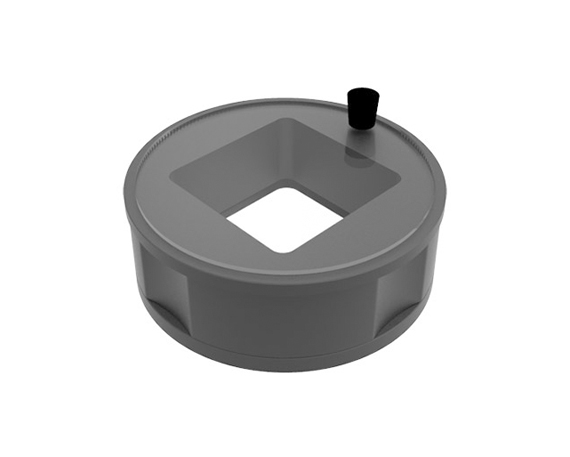 Use 35mm dish & square coverslip
Single well & 2/4 multi well type
Coverslip size : 18x18mm, 20x20mm, 22x22mm, 24x24mm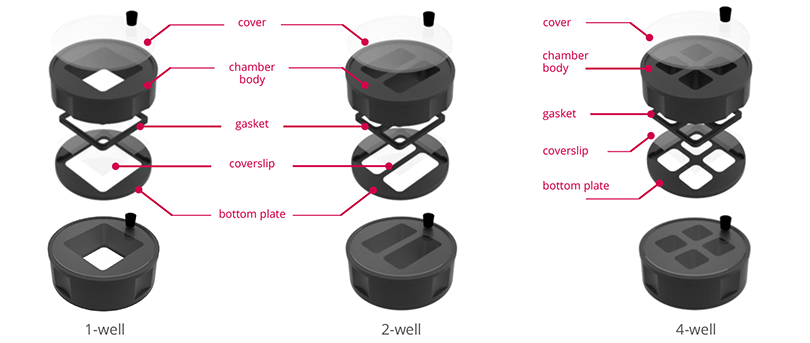 Chamber Material
Chamber Body
Black polycarbonate
Coverslip Body
Aluminum alloy
Cover
Glass
Gasket
Silicone
Volume
(24x24mm coverslip) 1-well : Max. 2.0ml/well 2-well : Max. 800㎕/well 4-well : Max. 400㎕/well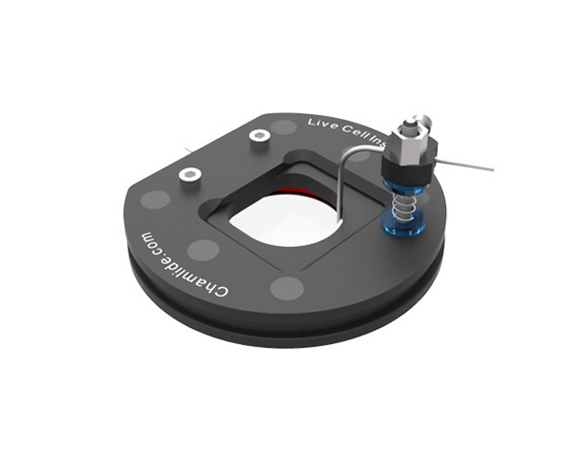 Perfusion type chamber
Laminar flow of medium
Able to adjust height of outlet
Able to control temperature of medium using IHS-101
Enable "Patch clamp" experiment (AC-P series)
AC-PU is for upright microscope
AC-PI is for inverted microscope
Perfusion ports are magnetic

Internal Volume
18ø coverslip : Max.0.6ml, 25ø coverslip : Max.1.5ml
Chamber Material
Chamber Body
Black polycarbonate
Bottom plate
Aluminum alloy
Gasket
Silicone
Inlet/Outlet Port Tubing Size
1.0mm (O.D)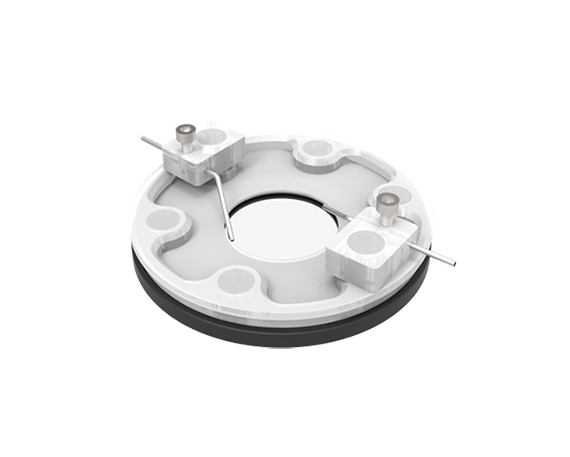 Use 35mm dish & round coverslip
Able to inject culture medium or drug
1 well CMB with standard, straight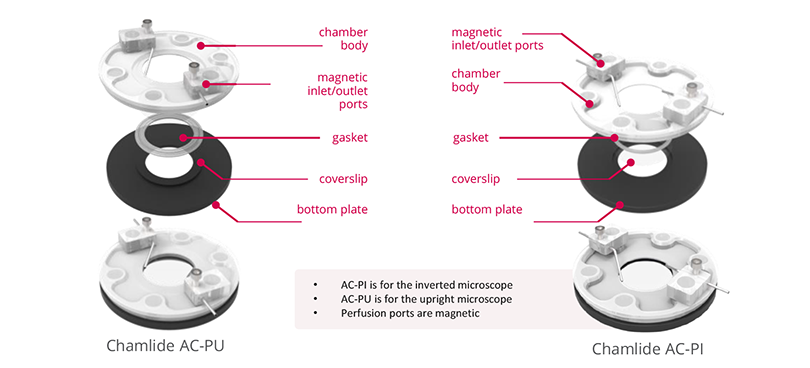 Internal Volume
18ø coverslip : Max.0.6ml, 25ø coverslip : Max.1.5ml
Chamber Material
Chamber Body
Black polycarbonate
Bottom plate
Aluminum alloy
Gasket
Silicone
Inlet/Outlet Port Tubing Size
1.0mm (O.D)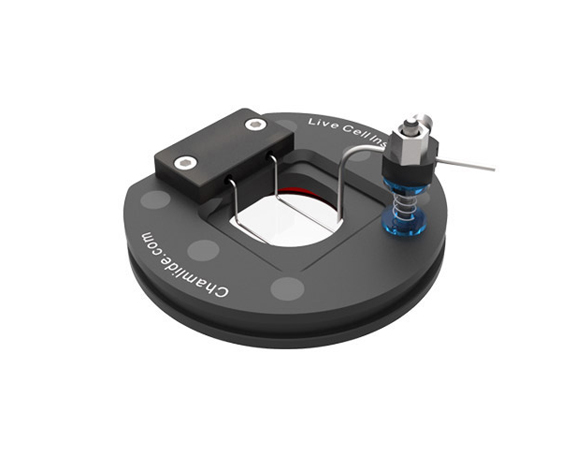 Enable electric stimulation experiment
All functions of Chamlide AC are available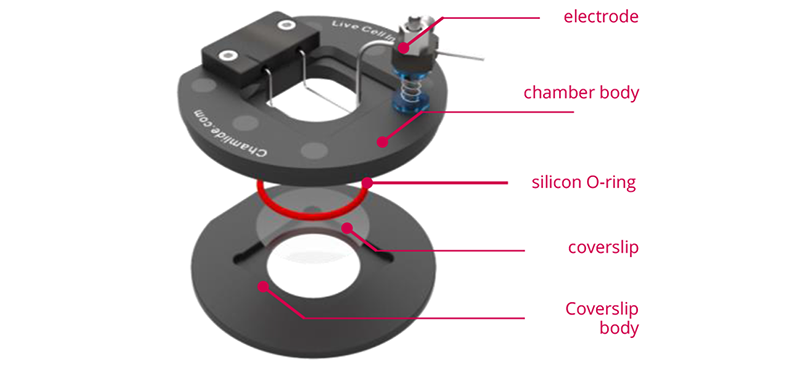 Chamber Material
Chamber Body
Black polycarbonate
Coverslip Body
Aluminum alloy
Gasket
Silicone
Volume
18ø coverslip : Max.0.6ml25ø coverslip : Max.1.5ml
O.D of Pt Electrode
0.5mm (O.D)
Inlet/Outlet Port Tubing Size
1.0mm (O.D)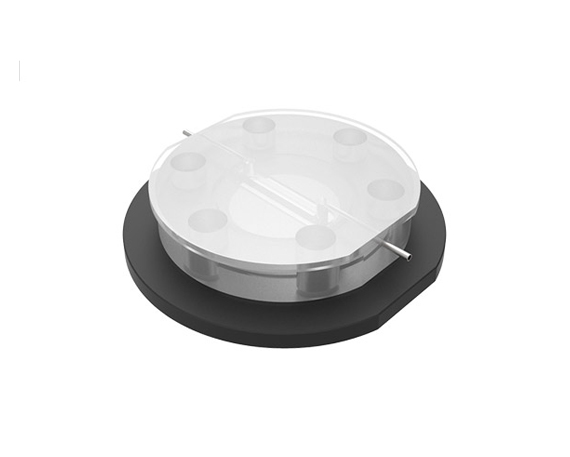 Enable fast exchange of medium
Enable experiment using shear stress (Channel height > 200um)
Electric stimulation experiment (CF-EC)
Obtain transmission image using two-coverslip (CF-T)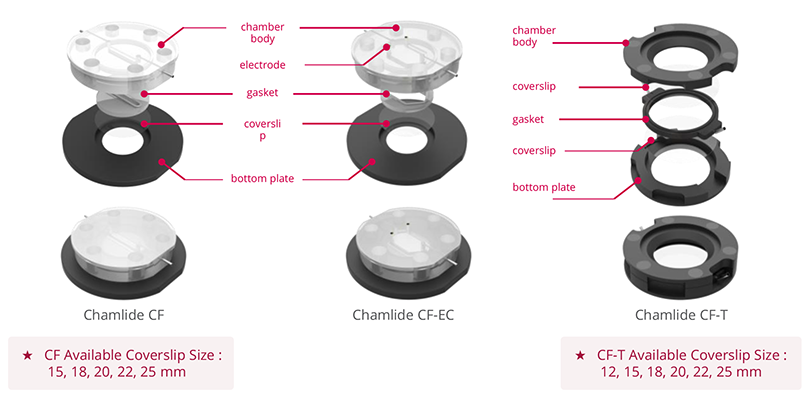 Chamber Material
Chamble Boby
Black polycarbonate
Coverslip
Aluminum alloy
Cover
Glass
Gasket
Silicone
Electrode
Platinum