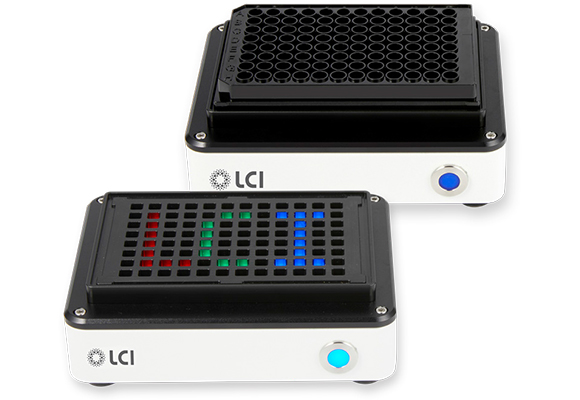 Description
W3 supports multi-well plate platform of Optogeneti cs technique for manipulating cell activity and expression by light stimulation. Light Irradiation intensity and wavelength to independent well are controllable by its user-friendly & intuitive dedicated PC software, illumination intensity and pattern are programmable.
Measures the temperature of the LED module to prevent overheating of the LED module
Minimize noise with linear heat dissipation fan control
Provides a spacer that can adjust the distance from the sample.
Provides dedicated cover preventing light scattering.
Composed with waterproof coated circuit boards and IP55* or higher parts for use in high humidity environments.
The control signal operates for a long time without impact of noise even when in the incubator
Uniform brightness correction will be done before shipment using LED brightness correction function
Brightness difference between LEDs up to ±5%.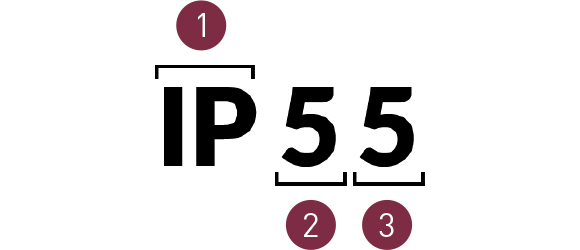 ② Solid particle protection Grade 5
Protected against quantity of dust that could interfere with the normal operation of the product but not fully dust tight. Complete protection against solid objects.
③ Liquid ingress protection Grade 5
Protection assured against water jets projected by a nozzle (6.3mm) from any angle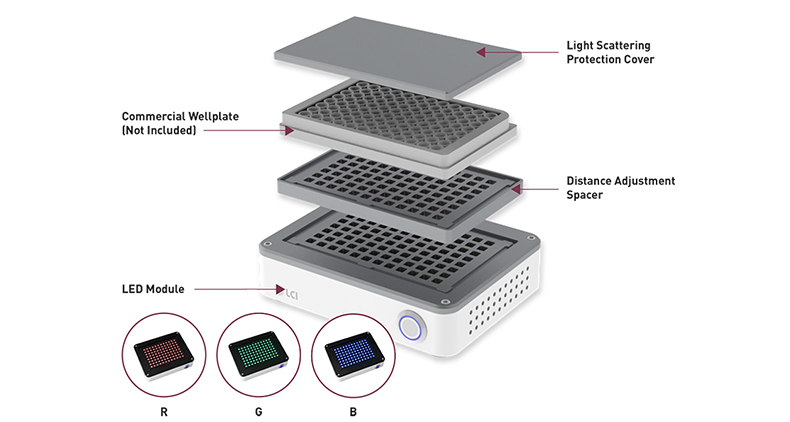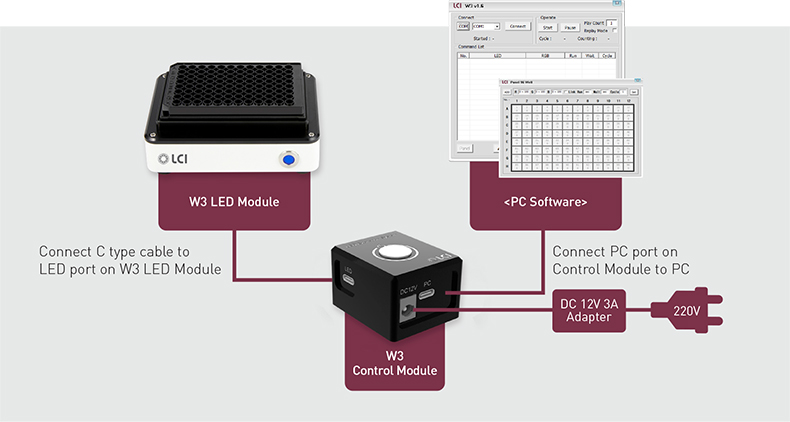 Previous Product
W3
Number of LED
Up to 96ch
LED Wavelength
RGB : 625nm, 525nm, 475nm (Fixed)
Sigle : 475nm, 525nm, 590nm, 625nm, 660nm, 730nm (Custom wavelength available)
Brightness
Correction
X
O
Communication
Speed
55ms per channel
10ms or less
regardless of channel
Method of
Communication
RS232
USB
Time Error
(24hr operation)
Dozens of seconds
100ms or less
Interface
PC, Console
PC
Communication
Speed
55ms per channel
10ms or less
regardless of channel
LED Temperature
Control
Manual on/off control
of heat dissipation fan
Automatic control
Waterproof
X
IP55
Power
Consumption
Input : 100-240vac, 50/60Hz, 0.8A
Dimension
191(W) X 122(D) X 137(H) mm
154(W) X 120(D) X 50(H) mm
Weight
LED Module : 0.5kg
Console : 1.85kg
LED Module : 0.85kg
Control Module : 0.21kg